The new version of Lateral AI has expanded the customisation options the user has to direct the AI's response. The user can now simply type or paste up to 7000 characters of text to describe what or who they want they custom AI to be like. This can include their expertise, style, passions, or anything fun since an image gets auto drawn from the description. More importantly, the user can also use this space to insert any facts and opinions that the Large Language Model (LLM) does not have access to. They can thereby get more customised generations that draw from the facts or opinions they have inserted. It becomes integrated and prioritised to use giving the user immediate capability to brainstorm and create with any (new) knowledge the LLM does not have access too or gives less priority to include in its generations. The app does all the work and user simply inputs a free form description. This new mechanism of Lateral AI is illustrated in Figure 1.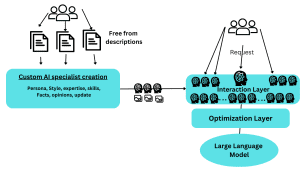 Figure 1: Custom AI specialist creation process integrated into Later AI
While the customisation/content addition process is effortless for the user, the importance of having this option is manifold:
Broadening the knowledge LLM can use in its generations.
Fuelling users' new knowledge and ideas with historical patterns and reasoning of LLM
Users are even more an active component with specialist/persona creation and respective request formulation.
Circumventing the obstruction or ignorance of user preferred knowledge that can arise given the increasing regulations placed on the generative AI.
Opening up new or simplifying existing use cases (e.g. periodic report generation (function) based on status updates (facts for the AI specialist))
Knowledge sharing: users can make their custom AI specialists public for other users to interact with while the description they used to create it remains private.
Actively creating instead of just consuming yields more benefits to the users.